George Floyd Trial: Jury Selection Halted As Derek Chauvin Appeals Possible 3rd-Degree Murder Charge
Juror selection was delayed until Tuesday after questions were raised on Monday regarding third-degree charges against the former Minnesota police officer accused of killing George Floyd.
Hennepin County Judge Peter Cahill sent jurors home after Derek Chauvin's attorney, Eric Nelson, said he plans to ask the Minnesota Supreme Court to review the Court of Appeals' decision which found Judge Cahill was wrong in refusing to reinstate third-degree murder charges against the ex-cop. Nelson said juror selection should proceed despite the pending petition, according to the Twin Cities Pioneer Press.
Currently, Chauvin is facing second-degree murder and second-degree manslaughter charges in connection with Floyd's death.
Judge Cahill initially dropped the third-degree murder charge in November, but state prosecutors revisited the matter in early February after the Minnesota Court of Appeals upheld ex-Minneapolis cop Mohamed Noor's third-degree murder conviction in Justine Damond's 2017 shooting death.
On Friday, the appellate court sided with prosecutors and ordered Judge Cahill to reconsider whether Chauvin will face third-degree murder charges.
Unlike Chauvin's lawyer, Minnesota Assistant Attorney General Matthew Frank said juror selection should be halted until a decision is made. Meanwhile, Judge Cahill said he cannot make a ruling while the matter is being appealed, CBS News reported.
"This court would be making decisions about jurors for a trial about which we don't know what the exact charges are going to be yet," Frank said, according to the news outlet.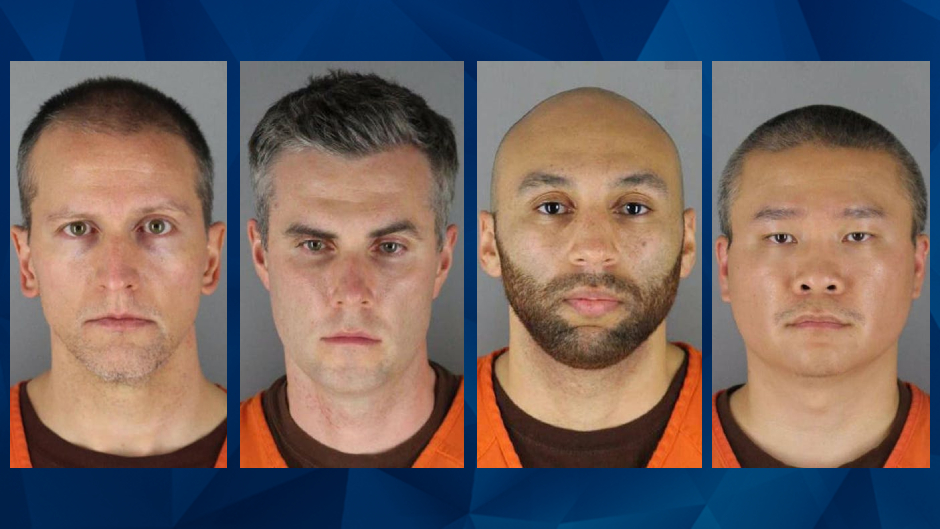 The three other ex-officers involved in Floyd's arrest, Thomas Lane, 37, J. Alexander Kueng, 26, and Tou Thao, 34 are charged with aiding and abetting second-degree murder and aiding and abetting second-degree manslaughter. Last month, prosecutors sought to add aiding and abetting third-degree murder charges to their cases. It is not immediately clear if the pending dispute will affect their charges.
On May 25, Minneapolis police officers were filmed arresting Floyd, 46, on suspicion that he used a counterfeit bill at the Cup Foods supermarket. After police pulled Floyd out of his car and handcuffed him, Chauvin was filmed forcing his knee into Floyd's neck for eight minutes. Floyd was heard gasping for air and saying he could not breathe before he lost consciousness and died.
While Hennepin County's autopsy report stated that there was no evidence "to support a diagnosis of traumatic asphyxia or strangulation," an independent autopsy asserted that sustained forceful pressure on Floyd's neck and back led to his death. Both reports mentioned drugs in Floyd's system but concluded his death was a homicide.
Chauvin will be tried separately from the other three former officers. Their trial is scheduled to begin this summer.
Juror selection in Chauvin's case is expected to take several weeks.